Variable Width Industrial Swing Gate
Adjusts 16″ [406mm] – 36″ [914mm]
With 20″ of adjustability, YellowGate's universal swing gate covers the largest opening distance of any swing gate on the market. Mount, then simply slide gate to the width of the opening and tighten adjustment bolts.
---
Because one size fits all your openings, confidently order a pallet today
---
Universal Mount
Mounts anywhere, no additional parts needed
Inline mounting covers openings from 19.625" to 36". Perpendicular mounting covers openings from 16″ to 32.625″
---
Adjustable Swing Direction

The Malbec Tensioner eliminates the need for a swing gate's most common failure point, the spring. The patent-pending system provides field adjustable tension and maintenance free closure, every time.
YellowGate's universal swing further reduces complexity and allows you to re-purpose gates as required. Change swing direction by adjusting a few bolts. Other swing gates require flipping parts or changing mounting positions and limiting flexibility. YellowGate opens to a maximum angle of 108 degrees.
OSHA Compliant
Meets or exceeds OSHA requirements.
1910.23 Guarding Floor & Wall Openings & Holes
(a) Protection of floor openings, (a.2) Guard ladderway floor openings or platforms like a stairway floor opening with passage through the railing either provided with a swinging gate or offset so a person cannot walk directly into the opening.
No Additional Parts to Order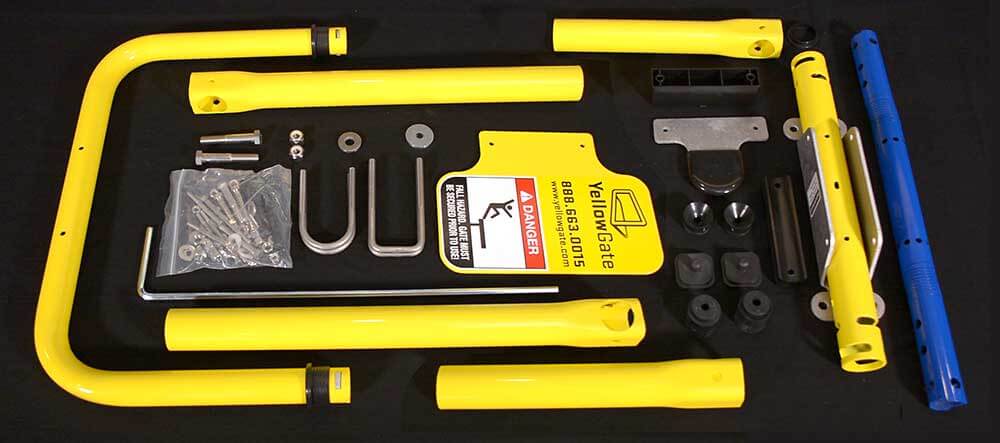 Each swing gate includes stainless aluminum mounting and hardware kit along with a tension adjustment tool to make installation fast and easy.
---